Steven Crowder Joins Rumble Exclusives
03/08/2023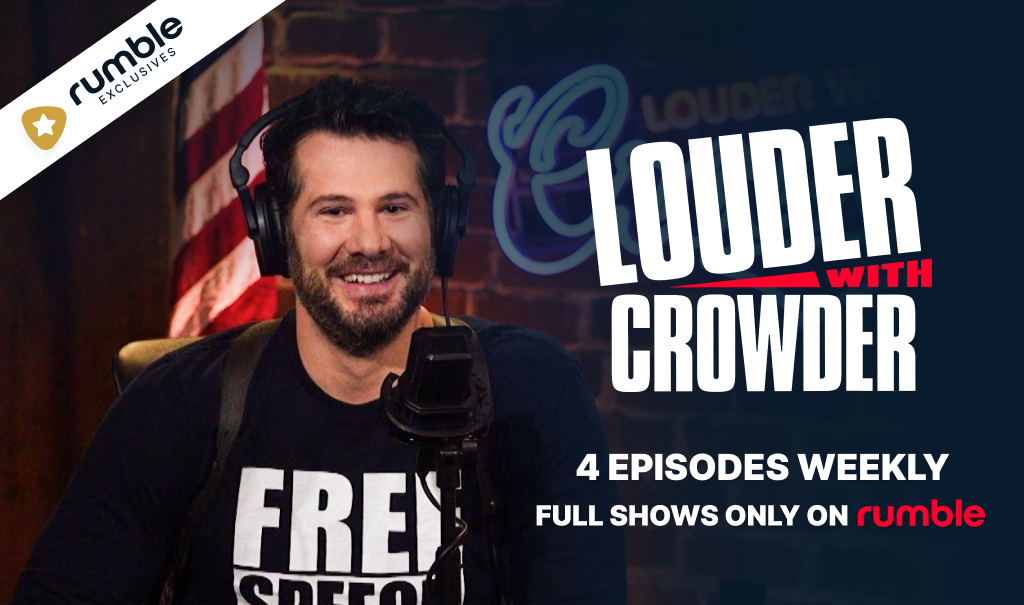 LONGBOAT KEY, Fla., Mar. 8, 2023 — Rumble, the popular video-sharing platform (NASDAQ; RUM), announced today that the company will exclusively manage Steven Crowder's content, including his "Mug Club" community and hit show "Louder with Crowder," adding to the growing list of top content creators on Rumble Exclusives.
With a majority of Rumble's early growth coming from news and political content, the company remains well-positioned to capitalize on large newsworthy events. Steven Crowder is one of the biggest news and political commentators in the United States, boasting nearly six million subscribers on YouTube and two million followers on Twitter.
As part of the partnership, Rumble will be the new home for Crowder's "Mug Club." In addition, Crowder will produce exclusive content on Rumble. The primary show, "Louder with Crowder," will consist of a one-hour live stream on Rumble, followed by a thirty-minute question and answer session for his paying Mug Club subscribers. Other content on Rumble will include on-location videos, comedic performances, and other types of live shows. Steven Crowder will make his highly anticipated return and go live on Rumble on March 20, 2023, at 10:00 a.m. ET.
"YouTube is making some mistakes, and I think places like Rumble are picking it up, and they're not forcing me any more than they are forcing you to fit into a box. They're just saying hey, here's a playground and let us have your back and at least be wind in your sails," said Steven Crowder. "This is the first time I've signed a contract, I will say this, and I'm really excited – really excited because every single conversation that we had with Rumble was how to make it better for the user; how to make it better for the viewer, and that for me is true North."
"Steven Crowder is one of the biggest and most talented podcasters in the world, period," said Rumble Chairman and CEO Chris Pavlovski. "Not only does Crowder bring amazing content to the table, but he also brings a huge audience and a large number of subscribers with his Mug Club community," he continued. "Crowder played a huge role in driving our growth in viewership during the U.S. midterm election in November 2022. We are excited to capitalize on our opportunity in news and political commentary content as we lead up to the U.S. Presidential Election in 2024."
You can subscribe to Steven Crowder's Rumble page at https://rumble.com/StevenCrowder. 
You can join Steven Crowder's Mug Club community at https://mugclub.rumble.com/. 
ABOUT RUMBLE
Rumble is a high-growth neutral video platform that is creating the rails and independent infrastructure designed to be immune to cancel culture. Rumble's mission is to restore the internet to its roots by making it free and open once again. For more information, visit https://corp.rumble.com