Rumble Will Provide a 100% Creator Revenue Share for Subscription Badges Till The End of 2023
03/29/2023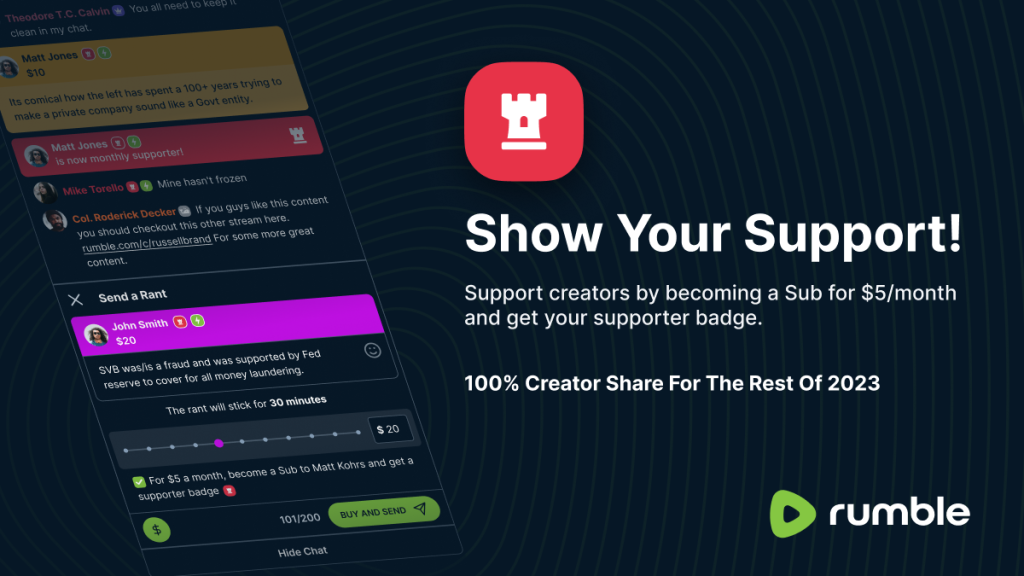 LONGBOAT KEY, Fla.; Mar. 29, 2023 – Rumble, the video-sharing platform (NASDAQ: RUM), announced today that creators will receive additional monetization opportunities through the end of 2023. For the rest of the year, creators will receive 100 percent of the revenue from the purchase of monthly subscription badges, which Rumble recently launched for the price of $5 per month. This move further empowers the creator economy and positions Rumble as a leader in supporting independent creators. 
"The opportunity to take market share away from YouTube and Twitch is today, and we are going to capitalize on it," said Rumble Chairman and CEO Chris Pavlovski.
"For the rest of 2023, Rumble will pay creators 100% of the revenue they generate from subscription badges," he continued. "At the end of the day, I want to have a product that generates more revenue for creators than any other platform out there."
The new subscription badges currently award users with a special badge during live chat, and in the near future will also turn off advertisements for subscribers on content by creators they support.
ABOUT RUMBLE
Rumble is a high-growth neutral video platform that is creating the rails and independent infrastructure designed to be immune to cancel culture. Rumble's mission is to restore the internet to its roots by making it free and open once again. For more information, visit: https://corp.rumble.com
Contact: [email protected]