Rumble Launches Supporter Badges & Monthly Subscriptions
03/28/2023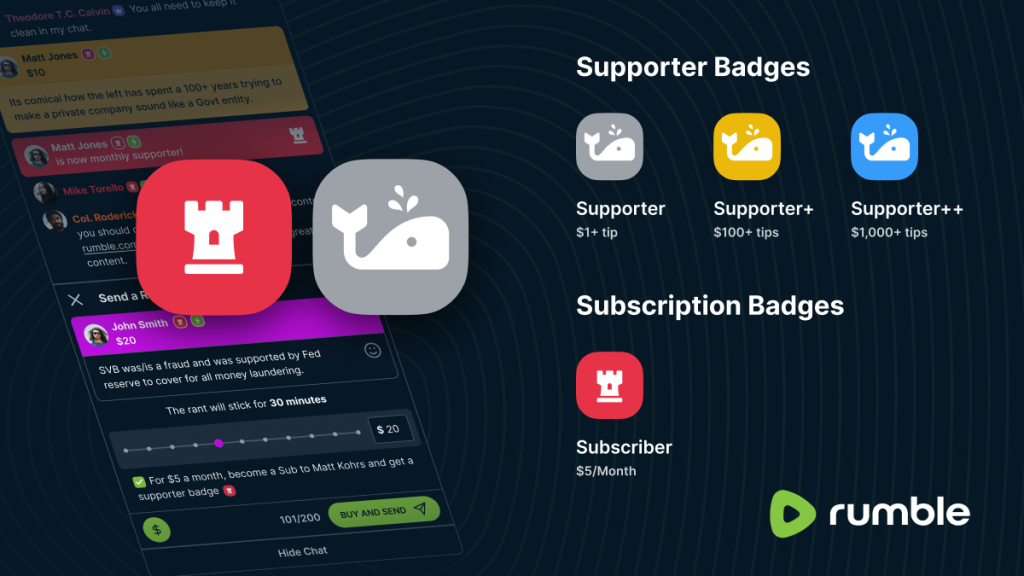 LONGBOAT KEY, Fla.; Mar. 28, 2023 – Rumble, the video-sharing platform (NASDAQ: RUM), announced today the launch of Supporter Badges and Monthly Subscriptions. Users now have new options for supporting their favorite creators. For $5 a month, the Monthly Subscription Badge will further monetize the creator's channel and will soon remove advertisements for subscribers, allowing users to have a more enjoyable video-watching experience. Additionally, the Supporter Badges will provide custom emotes chosen by the creator.
"Supporting independent creators has always been a top priority at Rumble, which sets us apart from Big Tech video-sharing platforms," said Rumble Chairman and CEO Chris Pavlovski.
"We're excited to roll out these new features because Supporter Badges and Monthly Subscriptions give users an easy and accessible incentive to support their favorite creators," he continued. "Subscriptions also improve the user experience by removing ads and providing another way for supporters to become involved and interact within the creator community."
ABOUT RUMBLE
Rumble is a high-growth neutral video platform that is creating the rails and independent infrastructure designed to be immune to cancel culture. Rumble's mission is to restore the internet to its roots by making it free and open once again. For more information, visit: https://corp.rumble.com.
Contact: [email protected]