Rumble Launches Alpha Release of Creator Sponsorship Marketplace
05/18/2023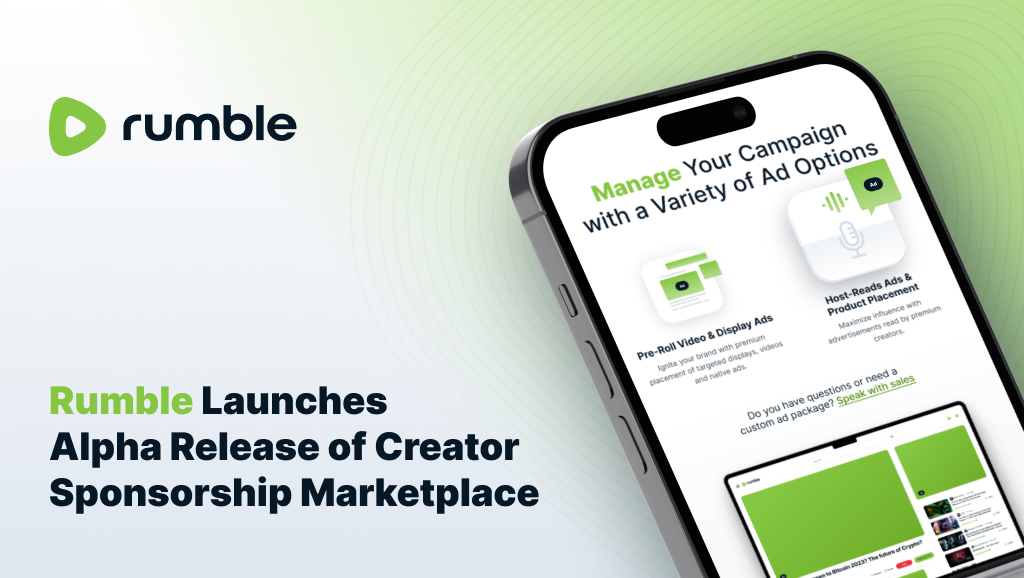 LONGBOAT KEY, Fla., May 18th, 2023 — Rumble, the popular video-sharing platform (NASDAQ; RUM), announced today the launch of the alpha version of its highly anticipated Creator Sponsorship Marketplace, which will be made available soon in the Rumble Advertising Center (RAC). The new marketplace rounds out Rumble's diversified opportunities to advertisers by offering unique access to premium creators alongside traditional video and banner ad inventory across Rumble and a future network of publishers.
Rumble's Creator Sponsorship Marketplace is a platform-agnostic tool designed to facilitate transactions for sponsorships between advertisers and content creators. For the first time, advertisers will be able to easily search, sort, and filter a database of not only Rumble's premium creators and exclusive podcasts, including Kai Cenat and IShowSpeed's new show, Russell Brand's "Stay Free" Podcast, DJ Akademiks, and JiDion, but also creators with inventory across multiple platforms. Advertisers will also have the flexibility to set up a variety of sponsorship types with creators, such as host-reads and product placements that fit their objectives and maximize campaigns with influential voices. While the alpha release will be restricted to controlled testing, the public beta release is expected to follow quickly, leading to a full public release by the end of the year.
"Our vision for creators is to provide the best economic toolkit on the internet," said Rumble Chairman and CEO Chris Pavlovski. "Launching the Creator Sponsorship Marketplace on RAC represents a major milestone toward this vision, and I can't wait for advertisers to realize the value of our creator community and their audiences," he continued. "We have seen some terrific conversions in the early days of testing this market manually, and now that we have the marketplace built to automate the sales process, we will have a strong foundation to scale this part of our business."
If you are an advertiser interested in creator sponsorships, contact Rumble Sales at [email protected].
If you are a creator interested in joining Rumble's Creator Sponsorship Marketplace, contact Rumble Creator Success at [email protected].
ABOUT RUMBLE
Rumble is a high-growth video-sharing platform that is creating the rails and independent infrastructure designed to be immune to cancel culture. Rumble's mission is to restore the internet to its roots by making it free and open once again. For more information, visit: https://corp.rumble.com.
Contact: [email protected]