Rumble Issues a Statement on Environmental, Social, and Governance (ESG) Matters
03/09/2023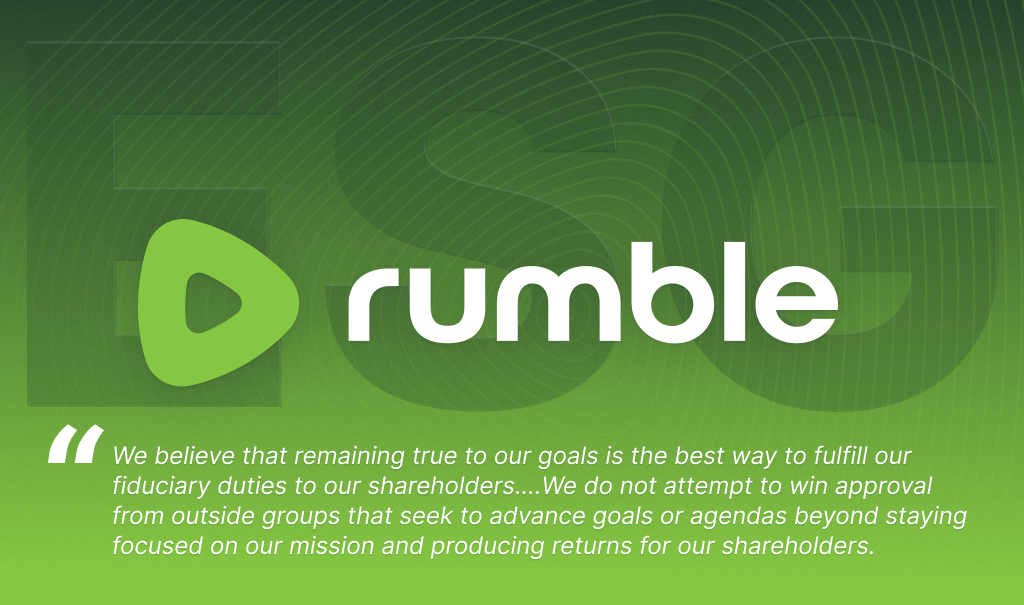 LONGBOAT KEY, Fla., Mar. 9, 2023 — Rumble, the popular video-sharing platform (NASDAQ: RUM), announced today the publication of a statement that details the company's view on environmental, social, and governance (ESG) matters. The statement, which can be also accessed at Rumble's investor relations website, reads as follows:
"At Rumble, we strongly believe that the pursuit of our mission of restoring a free and open Internet leads to a societal benefit that is not captured by existing ESG frameworks, standards, or metrics. By pushing back against cancel culture and creeping censorship, we help facilitate a free exchange of ideas between our content creators and users.
We believe that remaining true to our goals is the best way to fulfill our fiduciary duties to our shareholders. We devote our time, effort, and capital to maximizing shareholder returns by developing and continuously improving our product, growing our user base, and attracting top content creators, all while pursuing our mission of promoting the free expression of ideas. We do not attempt to win approval from outside groups that seek to advance goals or agendas beyond staying focused on our mission and producing returns for our shareholders.
We encourage our stakeholders to continue to judge us by the returns we deliver as we work to restore a free and open Internet."
"We are proud to be committed to delivering returns to our shareholders while we stay true to our mission," said Rumble Chairman and CEO Chris Pavlovski. "Outside groups may seek to advance their own goals and agendas, but we will remain focused on producing returns for our shareholders by restoring a free and open Internet," Pavlovski added.
ABOUT RUMBLE
Rumble is a high-growth neutral video platform that is creating the rails and independent infrastructure designed to be immune to cancel culture. Rumble's mission is to restore the Internet to its roots by making it free and open once again. For more information, visit corp.rumble.com.