Rumble Adds Mizkif to Growing Lineup of Gaming Creators
05/28/2023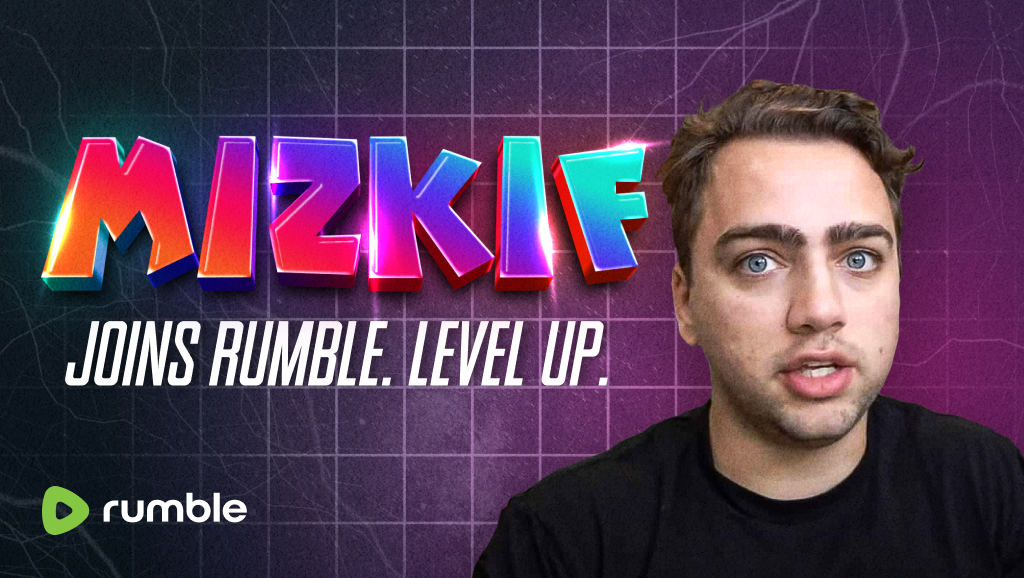 Rumble ramps up content with the addition of top gaming content creator Mizkif
LONGBOAT KEY, Fla.; May 28, 2023 – Rumble, the video-sharing platform (NASDAQ: RUM), announced today that Mizkif, the popular gaming streamer, is joining Rumble with monthly streaming. The addition of Mizkif bolsters Rumble's already impressive lineup of some of the most popular internet personalities in gaming and hip-hop. As a co-founder of the leading gaming organization One True King (OTK), Mizkif boasts more than 900,000 YouTube subscribers, 2 million Twitch followers, and 1.2 million followers on TikTok, and is one of the gaming world's most influential voices.
"The people behind Rumble are some of the brightest in the industry. They understand creators and are working side by side to create the best streaming platform. They asked me to join them in creating a gaming audience and helping grow an ecosystem of creators to stream on Rumble, and I'm excited to join Chris and many others on Rumble in doing that."
"The addition of Mizkif is a key part of our mission to go full throttle on building a content portfolio of top influencers in gaming, culture and sports" said Rumble Chairman and CEO Chris Pavlovski. "Rumble is quickly emerging as a leading platform for the under-30 demographic, and we're excited for Mizkif to be a significant part of our rapid growth," he added. 
You can subscribe to Mizkif's Rumble channel at https://rumble.com/mizkif
ABOUT MIZKIF
Mizkif is a popular content creator and streamer known for his entertaining and comedic streams on platforms like Twitch and YouTube. Mizkif rose to prominence through his unique blend of humor, gaming, and interaction with his audience.
Mizkif's content primarily revolves around gaming, with a focus on popular titles like Mario64, Jump King, and various other games. He has a knack for creating humorous and engaging moments, often resulting in memorable experiences for both himself and his viewers. Whether it's reacting to funny videos, attempting challenging in-game achievements, or showcasing his creative side, Mizkif knows how to keep his audience entertained.
Aside from gaming, Mizkif is known for his collaborations and interactions with other popular streamers and content creators, which further amplifies the entertainment value of his streams. His ability to connect with his viewers through chat interaction and genuine engagement has helped him cultivate a dedicated and passionate community.
Mizkif's charismatic personality and quick wit have garnered him a substantial following across various social media platforms. He has a loyal fanbase that eagerly anticipates his streams, as they know they're in for a good time filled with laughter and unpredictable moments.
ABOUT RUMBLE
Rumble is a high-growth video platform that is creating the rails and independent infrastructure designed to be immune to cancel culture. Rumble's mission is to restore the internet to its roots by making it free and open once again. For more information, visit: https://corp.rumble.com. Contact: [email protected]