Gaming and Hip-hop Icons RiceGum and FaZe Kaysan Join Rumble With New Exclusive Shows
07/18/2023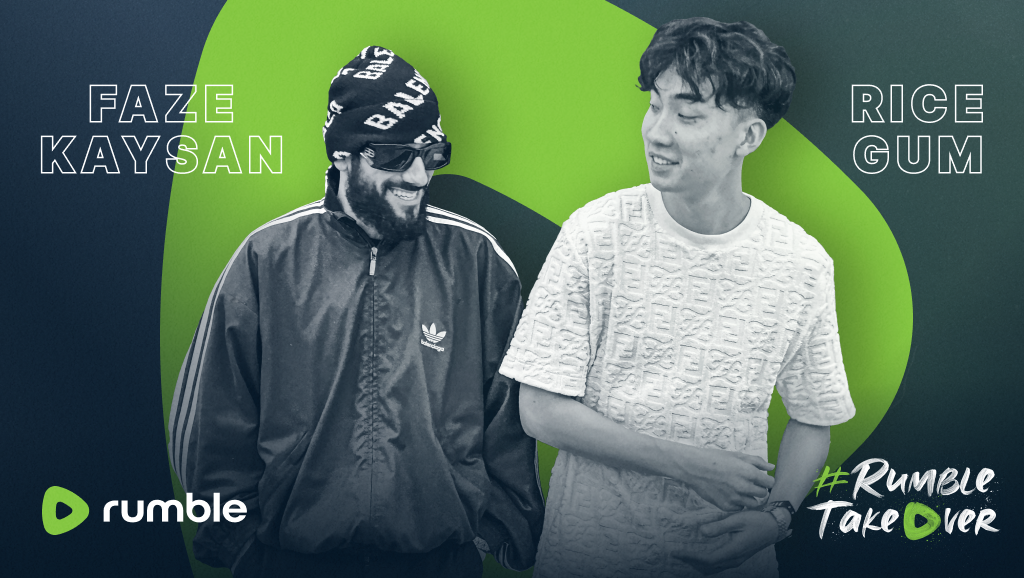 LONGBOAT KEY, Fla.; July 18, 2023 – Rumble, the video-sharing platform (NASDAQ: RUM), announced today that the hip-hop and gaming influencers RiceGum and FaZe Kaysan are joining Rumble exclusively. Bringing their massive audiences to the platform, these exclusive creators further position Rumble as a high-growth leader. RiceGum first gained notoriety in 2017 when he released his single "It's Every Night Sis," which ranked number 25 on the Billboard Emerging Artists chart. Since then, he has been entertaining 10 million subscribers on YouTube, generating over 2 billion total views.
The incredible multi-hyphenate talent of FaZe Kaysan will also be featured exclusively on the platform. The producer-DJ-creator-artist has an impressive portfolio of tracks, including original music with Future, the hip-hop titan.
"We're excited to see the surprising and versatile content that these two talents will bring to Rumble," said Rumble Chairman and CEO Chris Pavlovski. "Fans can expect the best of RiceGum and Kaysan but ramped up to the maximum, especially with the freedom to express themselves on our platform," he added.
You can subscribe to RiceGum's Rumble channel at rumble.com/c/RiceGum.
You can subscribe to FaZe Kaysan's Rumble channel at rumble.com/c/Kaysan.
ABOUT RICEGUM
Bryan Quang Le, better known as RiceGum, has set the internet ablaze with his diss tracks and online feuds with other YouTube personalities, particularly Jake Paul and KSI.
ABOUT FAZE KAYSAN
Shaking up the music industry from the beginning, Kaysan's debut single "Made a Way" instantly positioned him as an influential voice in the hip-hop and gaming world. A testament to his talent, Kaysan's videos have garnered more than 13 million total views on YouTube.
ABOUT RUMBLE
Rumble is a high-growth video platform that is creating the rails and independent infrastructure designed to be immune to cancel culture. Rumble's mission is to restore the internet to its roots by making it free and open once again. For more information, visit: corp.rumble.com. Contact: [email protected]