Bob Menery Launches Live Show Exclusively on Rumble from the Super Bowl
01/12/2023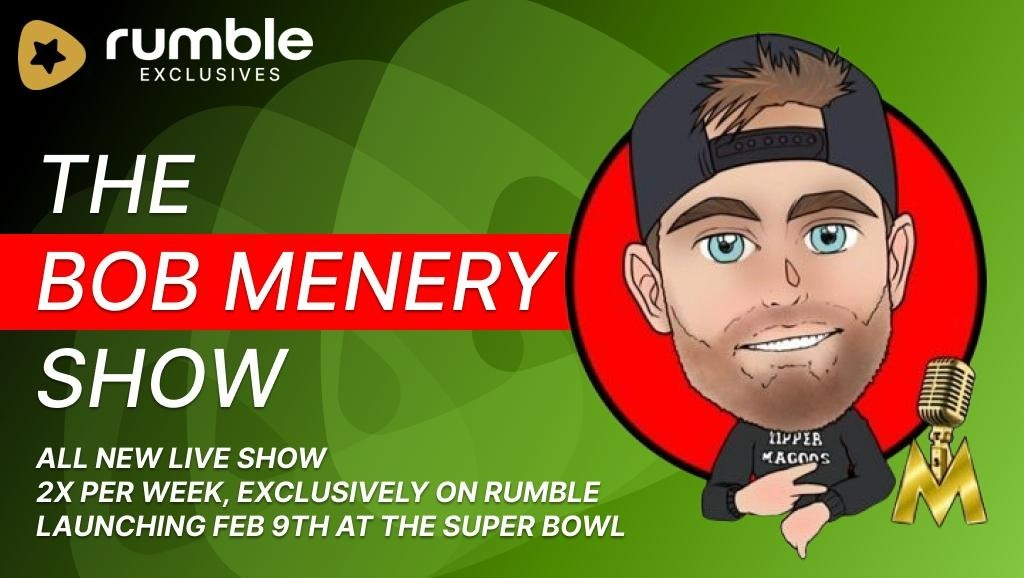 Sportscaster joins Power Slap, Russell Brand, and Glenn Greenwald with an all-new show exclusively on Rumble
LONGBOAT KEY, Fla., Jan. 12th, 2023 — Rumble, the video-sharing platform (NASDAQ: RUM), announced that sportscaster and internet personality Bob Menery will launch a new live show exclusively on Rumble, beginning with live Super Bowl Launch Shows on February 9th at 2 p.m. PT / 5 p.m. ET and February 12th at 10 a.m. PT / 1 p.m. ET.
Menery became an overnight internet sensation in 2017, when he went viral for showcasing his golden "broadcaster" voice. He quickly developed a large following for his comedic play-by-play parodies on Instagram, where he currently has 3.3 million followers. His online popularity led to hosting several successful podcasts, such as the Full Send Podcast from 2021-2022, and currently, Ripper Magoo.
"The Bob Menery Show" will focus on sports and will be livestreamed exclusively on Rumble twice a week. It will also be available on Rumble's subscription platform, Locals. Menery's live Super Bowl Launch Shows will include celebrity guests who will be announced in the coming weeks.
"Having the opportunity to be a first mover in the sports vertical on Rumble is something I couldn't pass up," said Menery. "I'm super excited and look forward to building a show that will focus on much-needed sports content on Rumble."
"Bob Menery is one of the most recognizable voices in the podcasting world today," said Rumble Chairman and CEO Chris Pavlovski. "We are thrilled to provide the platform where he can continue to grow his audience, opening the door for more sports-related content on Rumble."
You can subscribe to Bob Menery's Rumble page at https://rumble.com/BobMenery
You can subscribe to Bob Menery's Locals community at https://bobmenery.locals.com
ABOUT RUMBLE
Rumble is a high-growth neutral video platform that is creating the rails and independent infrastructure designed to be immune to cancel culture. Rumble's mission is to restore the Internet to its roots by making it free and open once again. For more information, visit: https://corp.rumble.com